Sponsored by Sisterhood
Gift Shop Update
ARKanukah shop new arrivals:
Made in Israel silk scarfs, candles (Hanukkah, Shabbot, and Tapers), trivets
Hanukkah Rubics cubes and dreydals filled with silly putty
Chocolate gelt (made in Belgium and nut free)
Mahjong gifts (jewelry, cases, towels. key chains, serving pieces)
New Menorahs
Jewish American girl doll and all the books that tell her story growing up in NY turn of the century
Numerous other things like the menorahs that use day glo sticks instead of candles and the wine cork that has a brass menorah attached to it, etc etc etc
Come check it out — Chanukah is less than 3 weeks away — open Sunday mornings or contact bethnodelman@gmail.com or 479-582-1707
If you need to come to the store at a different time, contact Beth Nodelman at bethnodelman@gmail.com or 479-582-1707.
If you are looking for  Judaic supplies; Shabbat Candles, Kiddush Cups, Judaic themed kitchen towels, mezuzah's, etc, you will be able to find them in our very own gift shop.
The shop is open when the Temple is open. All proceeds benefit Temple Shalom.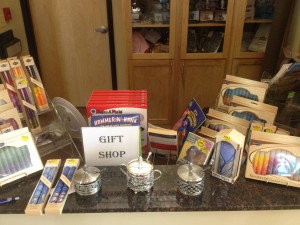 If there is an item you are looking for, please let Beth know.