Religious School
Temple Shalom Religious School
Our religious school meets every Sunday 10:00AM – 12:00 Noon each Sunday during the school year at Temple Shalom, 699 N. Sang, Ave.  Religious education is provided free of tuition charges to the children of Temple Shalom members.
School Information
The Temple Shalom Religious School (TSRS) is a volunteer run organization, operated by parents and others for the education of Jewish children, families and the Jewish Community of Northwest Arkansas. The religious school has been holding classes since 1981. Classes this year will meet each Sunday morning at 10:00 AM until 12:00 PM.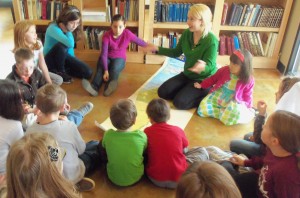 It is our intention that the TSRS remain a joyful and creative environment that enables us to provide for the needs of all students. In keeping with this goal, the school will divide the children into a number of classes in order to maintain a low student to teacher ratio.
Each class will have age appropriate curriculum and materials developed by the Institute of Southern Jewish Living. To accomplish our goals, it is vital for parents to play an active role. Parents are needed to teach classes, organize events and participate with their children in home-based activities that reinforce Religious School teachings.
Classes will start promptly at 10:00 AM. Students will join in prayer together with their teachers and parents for the last 20 minutes of the day. To make this a lesson in itself, we will be asking the classes to help lead this activity. We will also be asking the children to participate in various children-led services throughout the year.
Let's join together to support the Jewish education of our most precious possessions: our children.
Temple Shalom welcomes new members. For more information, contact Melissa Woods at 479-841-5068. There is no tuition for Temple Shalom family members.
Temple Shalom Religious School encourages all Religious School members to become a part of the Temple Shalom family!
For more information contact our Religious School Director