Sponsored by Sisterhood
The Temple Shalom Gift Shop is open 10-noon Sunday mornings when public schools are in session, whenever the Temple is open or by appointment (phone 479-582-1707). All proceeds benefit Temple Shalom.
Details about specials, holiday items and so on can be found in gift shop announcements.
If you are looking for Judaica supplies; Shabbat candles, kiddush cups, Judaica themed kitchen towels, mezuzahs, etc., you will be able to find them in our very own gift shop.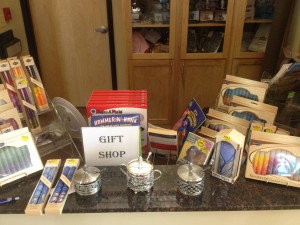 The gift shop has a variety of goods for the High Holidays. The new honey dishes — a metal decorative dish with a glass insert, spoon and lid, are lovely and inexpensive. These will also hold horseradish, charoset, condiments, etc. The Safed Shabbot 10 in. tapers and assorted other sizes candles which are made by artists in Israel are gorgeous. Come check everything out!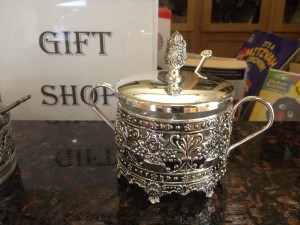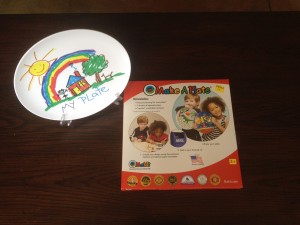 For upcoming events–Bar and Bat Mitzvahs, Father's Day, baby showers, etc — the gift shop has a multitude of potential gifts. Look for some baby onesies with hamsahs on them, mezuzahs, jewelry and a metal Shabbot candlestick candlelabra. Don't forget the new Safed tall candle tapers and candle sticks—made by Israeli artists, as well as the multitude of award winning books (for all ages), games (Jewish Taboo), and Rebecca, the Jewish American Girl doll (small version), and her books.
If there is an item you are looking for, please let Beth know for special orders.
For more information or to make an appointment to shop contact Beth Nodelman at bethnodelman@gmail.com or 479-582-1707.