Temple Shalom Sisterhood welcomes women of varied backgrounds, ages, and interests to join sisterhood to build meaningful friendships and to give support to our temple and the larger community.  We strive for balanced programming and activities which touch on spirituality, service, learning, and fun.
 Upcoming Sisterhood Events
Sisterhood/Chair Mitzvah
Friday, September 8, 6:30-8:30 pm
Please join us in celebrating Shabbat and the completion of Chai Mitzvah studies by eleven dedicated students.  Our guest that evening will be Jennifer Daley, 1st VP of WRJ-Southwest District.  She will speak during service.
RSVP required for the sisterhood-sponsored dinner. Email or call Sharon Berman at bermanss@gmail.com or 870-208-5454.
Energizing Sisterhood/WRJ Awareness
Saturday, September 9, 9:00 am – 1:00 pm
Open to all sisterhood members – If you are interested in making our sisterhood more fun and more meaningful, you won't want to miss this workshop with Jennifer Daley. Please RSVP to Sharon for planning purposes, including lunch.
Crystal Bridges & Dinner on Square
Saturday, September 9, 2:30 – 7:30 pm
Share your favorite art periods and the amazing outdoors Chihuly "In the Woods" installation with Jennifer Daley.  Dinner following, on Bentonville Square.  Please RSVP to Sharon bermanss@gmail.com or 870-208-5454.
NOTE: Sisterhood members can choose September 9 MORNING or AFTERNOON activities or DO BOTH.  But please RSVP your plans.
Sisterhood Chai Tea/Annual Meeting
Sunday, May 21, 4:00 – 7:00 PM
Don't miss this meeting!  We will celebrate this past year, play a game, and brainstorm for next year.  We need your input!
Enjoy a variety of great teas and a light dinner.  We may ask for a few food items to be brought by members.  You'll hear about that later on.
RSVP to Sharon Berman at 870-208-5454 or bermanss@gmail.com.
Rummage Sale – June 21-23     Begin collecting the things you wish to donate!
We need your help and your stuff for our annual Rummage Sale.  Our goal is to make $2000-$3000.  Please start going through your household items and furniture, pictures, women's and children's clothing and shoes, as well as books and games. We can't do this without your precious donations!
Chocolate Seder Remix – April 2017
Last Sunday, Temple Shalom's Sisterhood celebrated Passover with a Socially Responsible Chocolate Seder. Most of the chocolate served was fair trade and the Haggadah was designed to help members learn about the unfair practices of non-fair trade cacao plantations, with the trafficking of children to be used as forced labor in the harvesting of the cacao pods, the use of dangerous equipment such as machetes, and the fact that the plantation owners do not pay the farmer a fair wage.
Sisterhood in the Sukkah:
Learning and Pot Luck
Tuesday, October 18 – 6:30 to 8:30 pm
Celebrate with other Sisterhood members in our Temple sukkah on October 18 (17 Tishrei), by bringing a favorite fall dish such as a vegetable side dish, vegetarian stew, salad, bread, or dessert.
Please RSVP by October 14 so we know how many are coming and what dish you wish to bring. Email or call Sharon Berman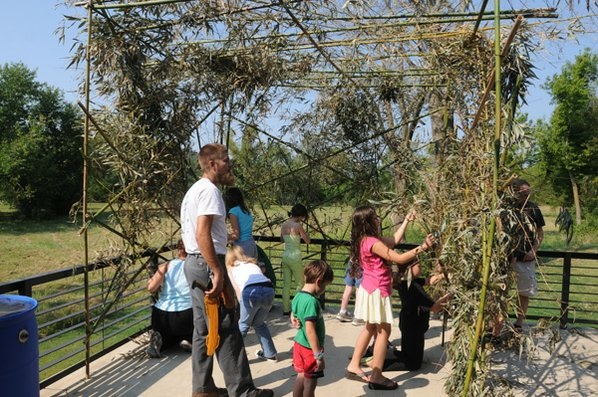 Gift Shop
The Temple Shalom Gift Shop is available from 10 am-noon on Sunday mornings when religious school is in session.  It is also available when the administrator is in and by appointment.  Call Beth Nodelman at 479-582-1707 for an appointment.   All proceeds benefit Temple Shalom.
The gift shop if filled with a variety of Judaica – Shabbat, Havdalah, and Yahrzeit candles, candlesticks, Kiddush cups, mezuzahs, Hamsa trivets, jewelry, books and much more.  Any item you need, but can't find in the gift shop can be special ordered.  The annual Hanukkah sale begins several weeks before the holiday begins.
In addition to our general group activities, the Sisterhood committee also sponsors the Temple Shalom Judaic Gift Shop.
President: Sharon Berman
Vice President: Traci Wyatt
Secretaries: Irene Spalter & Faith Ashley
Treasurer: Eileen Lieber
Contact:  Sharon Berman